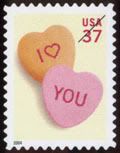 "Without love, what are we worth? Eighty-nine cents! Eighty-nine cents worth of chemicals walking around lonely."
-Hawkeye from M*A*S*H

What is love? This is one of the most frequently asked questions in today's society next to what is the meaning of life? Love is a hell of a thing. It is a word and feeling that keeps us going in some way or another. It can, and at the same time can't be truly described in words.

The many kinds of loves we feel and experience help us get through everyday life. Without love of anything or anyone, there wouldn't be much to live for. There are many ways to love a person, be it as a friend, family member or significant other. There is also the love of things around us, such as the love of video games, the love of music, movies, books, food and Star Wars. Yes, that's right, Star Wars deserves its own category of things to love. And of course, there is the love of life itself.

The love I wish to address in this article however, is a love that takes you higher than any drug known to man and brings you down ten times worse if you let it. Teenage love is something else. It's something we think we'll only experience once in our lifetime. Maybe we're right.

Let me start off by saying this: Your teenager is usually one of two things: A), a hopeless romantic and adventurous explorer; or B), a lazy ass or someone who shuns the idea of love. I've been both of these things, so trust me, I know all the angles. However, I much rather enjoy being the hopeless romantic when the feeling is mutual. A teenage boy will fall in love easier than two-minute mac and cheese is made. A girl can take over a boy's mind like that. But when that love dies or is no longer visible to the boy, it becomes all he thinks about and suddenly, everything reminds him of her.

These aren't just certain feelings I've experienced; every teenage male I've ever known who was broken-hearted has had to take plenty of time to get over it. After this "dramatic blow" to the ego and hormone system, we seem to fall further and further if we let ourselves. This happens to everyone, but just how far they fall depends on the person. Once we look at the big picture and realize that we're young and that girls come and go (just as guys do for girls), we reach the epiphany that we haven't fallen far at all. In fact, we haven't really fallen. We've just gone through something everyone goes through sooner or later.

When your teen is down and out in the love department, it's best to talk to him or her about it, of course (as if you didn't already know this). But I believe the most important thing is for him/her to realize how much they really have going for them and to focus more on their goals in life. Your teen will move on eventually (hopefully), but a first love is still quite something to get over.

In my experiences, I've felt the ups, the downs, and the in-betweens of love. Through this I've come to realize one thing: when you love someone who loves you equally, do your best to hold on to it and don't let it slip away. Still, there are times when you have to let it go in order to live life. As said by many people, including DMX in the song Let Me Fly (from It's Dark and Hell is Hot), "If you love something, let it go, if it comes back to you it's yours. If it doesn't, it never was." No matter how cliche and over-used, this saying is true and must be done every once in a while.

My advice to anyone interested, teen or adult, is this: in order to love another, you must love yourself first. It's just as Sammy Davis Jr. says, "I can't be right for somebody else, if I'm not right for me." Too many people rush into love, and too many people don't take the chance to love at all. There's an opposite end of the spectrum to every opinion on love, but there's a balance there somewhere. Just remember to focus and think about what will and what won't always be there for you. As far as I'm concerned, I myself am a teenager and I've got my whole life ahead of me, and plenty of love to give when it decides to come my way. Till then I think I'll focus on another love and that, my friend, is the love of music. No matter what, there's someone or something that will always love you back. That's the one love you never let go of. That's the love that is a part of you. The same love that helps to make you who you are.

What is love? I can't explain it any better than I have, but I'll say it again, it's a hell of a thing.