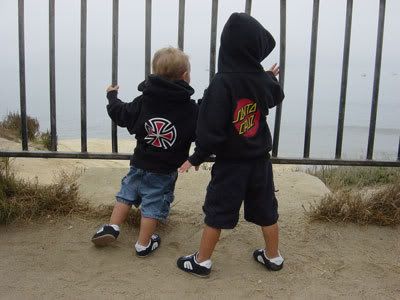 As Rockermoms, we like to think that we rock, that we're cool, that our kids are the coolest kids around. While most of that's true, some of us could use a little help every now and then.
Meet Maureen Kendall of Little Ruler, some of the hottest officially-licensed fashion for infants and toddlers around! Maureen not only embodies cool, she helps our kids to get there, as well.
Kendall, a native of the San Francisco area, grew up in nearby Almaden (San Jose). She graduated from San Jose State University, receiving her Bachelor of Arts in Industrial Organizational Psychology and going on to bring her corporate skills to Netscape and a variety of startups as a human resources consultant. Maureen met Jeff Kendall in 1996 and soon after entered a new career, motherhood, before co-founding Little Ruler in 2004.
Many of us dream of starting our own business. Maureen, along with her husband, Jeff (who happens to be the '80's skateboard legend!), are living the dream. We're sure their two sons, Cole and Parker are the best-dressed kids at the park!
Not that Little Ruler appeals solely to skaters and skate enthusiasts. The San Jose Mercury News crowned the brand its "Find of the Week," its punk styles have graced the pages of parenting and entertainment magazines, and "Access Hollywood" spotlighted its rising popularity among the celebrity mom set. For dressing her kids Maddox and Zahara, Little Ruler is Angelina Jolie's "favorite fashion line," and new moms Britney Spears, Jennifer Garner and Gwen Stefani, as well as new dad Jason Lee, have also embraced the brand for its "edgy style with attitude."
We got to ask Maureen the questions that we here at Rockermoms RHYTHM want to know. Enjoy, and be sure to visit LittleRuler.com!
When did you first think about starting your own clothing line?
I first thought about it in 2002, right after our first son was born

What are some of your favorite features of Little Ruler clothing?
The artwork to some of our graphics are really detailed, I also like the coloways overall in our production. They are classic but still fresh.

Who are the adorable kids modeling your clothing on the website?
For the most part our sons are the current models, Cole age 5 and Parker age 3.

If you could choose two pieces of Little Ruler clothing that best represent you, what would they be?
My favorite pieces are Independent 'Hell Bent Heaven Sent' and 'I wish my boyfriend could Skate'. The latter only because I am a girl…

What is your definition of a "Rockermom"?
A woman with her own sense of style, who takes care of herself and having it show. A mom who rocks is never afraid to ask questions and puts herself out there for herself and for her family.

What would those closest to you say if I asked them what makes you a Rockermom?
Ha. The difference of my overall appearance and approachability than those of other 'stay-at-home' parents.

When you picture yourself both before motherhood and now, what would you say is the biggest difference?
First and foremost, that I trust myself a whole lot more now than I did before I was a mother. I never knew that I wasn't trusting myself. Introspection is key. Motherhood also makes you fearless when you need to be and selfless consistently.

What accomplishments are you most proud of?
My family. My outstanding marriage and my two lovely, mischievious, bright boys.

In one sentence, describe your children!
Sweet, adorable, curious, smart, ENERGETIC, compassionate, athletic, artistic, fantastic boys!

What or who is your biggest motivation?
My biggest motivation is my family. I work hard in my business as well as in my home. The work I do fulfills me and shows my guys how much I love them. Love is a verb. I never want to waste a day that God has gifted me and my loved ones, it reminds me to be 'present' everyday.

Here are some fun questions to answer in 3 words (more or less, we won't mark it wrong!):

What are your greatest strengths?
Strong, Smart, Sensitive

Weaknesses?
Perfectionist, Self-Critical, Control Freak

Definitions of success?
To be 100% content at any moment of any day.

Favorite ways to handle stress?
The gym!! Running, yoga, kickboxing, and weight training. A great glass of wine doesn't hurt either.

Three values you hope to pass on to your children ?
Respect!!! Open-mindedness and honesty.

Favorite indulgences?
Red Wine, Cookies, Make Up, Handbags and Shoes!

Annoyances?
Close-minded and rude people.

Favorite places?
San Francisco, my hometown, New York City and home.

If you had the power to change one thing in the world, what would it be?
The lack of respect and manners younger people have today.

Where do you hope to see yourself five years from now?
Running my business into a bigger business, traveling with my husband and sons, teaching yoga?

Do you have some quick advice for other Rockermoms?
Don't become invisible. Not to yourself or to your husband/kids. Have them ask you how you are today!

A favorite quote that sums it all up for you:
"For a slim figure, share your food with the hungry. For lovely eyes, seek out the good in people. For an attractive face, speak words of kindness. For poise, walk with the knowledge that you never walk alone." –Audrey Hepburn
Thanks, Maureen! You rule! -Rockermoms RHYTHM