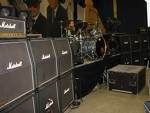 Little regard is given to effects these days. Companies cram cheap effects boards into amps or sell pedals without much care for the end-user. While some users are just fine with this practice, it leaves more experienced players or players with specific needs steaming. And, pro quality effects are sometimes outrageously priced. So, I am here to guide you through the good and the bad of effects. I want to spend some quality time with the mainstream effects. So, I will focus on one or two effects in each installment.
First, let me say that effects should be used sparingly. Your first duty to your tone is a quality guitar and amp. No matter how many effects you use, you can't make bad tone great tone. However, you can always make great tone bad. Do yourself a favor: don't go cheap on your main tone. That said, effects can spice up weak tone. It won't make it great, but it can make it better, or at least, different. So, here we go.
Gain/Distortion
This is usually the first stop in your effects chain. When you have distortion on your amp, this is usually the first knob. Basically, you are amplifying the guitar signal before you amplify it, causing it to clip. Sound confusing? More gain stages equal more distortion. On tube amps, you may have four or more gain stages. Each tube clips the signal to the next tube stage. Solid state amps have a circuit-driven overdrive and can overload the circuit a little easier and more efficiently. Then, it is all compressed to a usable level.
This section is called the preamp.
You can use the amp's preamp for overdrive/distortion, or you can get a custom tone by using a pedal. There are varying types and brands and sounds. Overdrive pedals are great for amps with existing gain sections. They can give you a boost that might make a solo cut through the mix or fatten up your distortion more than usual. Distortion pedals have a more saturated and compressed tone. They overdrive the signal differently and are normally used instead of an amp's preamp overdrive/distortion section. They are commonly used with single channel amps to mimic the switching of a multi-channel amp.
Most pedals and racks have some very basic settings. Every distortion pedal I have ever seen has 3 basic knobs. There will always be a volume, tone and gain knob. The Volume is just that. At 50% the knob is at line level, usually, meaning that if the pedal is on or off, the volume is the same. If you want the volume to decrease or increase, turn it up and down. Simple.
The tone knob is a bit trickier. This is usually the variable between manufacturers and models that they make. Boss for example, has at least 4 different pedals in its basic product line, each with additional tone capabilities. Basically, tone just means EQ. More tone knobs or EQ knobs means that you can dial in specific sounds and frequencies. These are very powerful in shaping your tone and characteristics of the distortion. You can punch in chunky, earth shaking low end, or ear-piercing highs and mids that will rip you in two or a combination of all three with some of the higher-end pedals.
And of course, the gain knob will set the actual amount of distortion. If you want that slightly dirty sound, give it about 10 to 20%. This is nice for blues. Or, say you want that gritty, cranked overdrive, give it a twist to somewhere around 40 to 60%. And for the metalheads, quit wasting time and turn that knob to100% and break it off.
But, no matter what you do, be sure to try a few pedals out, compare and contrast. Some are built better than others. They do sound different. And, if you need a recommendation, you know where to find me. Have fun and come back next time when I discuss reverb and modulation effects.