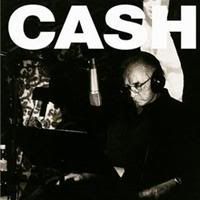 CASH V A Hundred Highways
I'm old and stuck in my ways when it comes to music. I rarely buy new records except to replace those stolen by younger siblings or former roommates. I'm cranky about new music and the music industry. I'm probably not the best person to ask to review CD's (that I still call "records"); I begin all of my sentences with "I". I received this CD in the mail with relief.
Reading the liner notes in the CD cover while my son received swimming instruction from a guy he's not crazy about, I learned that Cash V is the last installment of a box set titled UNEARTHED; the result of a shared vision by Johnny Cash and producer Rick Rubin. Listening through this posthumous record, an act that takes place in my car while driving to and from various sporting events, play dates, and errands, I hear the voice of a man who knows he's not long for this world, the voice of a man resigned and relieved (You can run for a long time, Sooner or later God'll cut you down). As a listener you find yourself comforted by Johnny's acknowledgement of his nearing death. Johnny Cash is a symbol of America, and it's so un-Americanlike to be upfront, talkative, and open about dying (Got on my dead man's suit and my lucky graveyard boots). For those reasons, I found this record to be profound. The instrumentation is just what I like bass, guitars, mandolins, drums -- all played by tasteful proficient players mostly from Tom Petty's band.
Johnny Cash and me go way back; my dad listened to "Live at San Quentin" incessantly during my formative years and we watched his TV show every week. I didn't like him much as a little girl; that frighteningly terse looking man with slicked back hair was a far cry from the Monkees. But I openly embraced Johnny's undeniable coolness as a young-adult musichead. As a female musician married to an enigmatic male musician, I always held Johnny and June's love story as the exception, the shining example of love over ego and demons (though there is a lot of fairy tale in our culture's reading of their story). You can tell by listening to this record that Johnny misses June (Love of my life/ not faded nor falling apart) and is looking forward to rejoining her in the afterworld (Oh Lord, help me to walk one more mile..I'm tired of walking alone).
Cash V is a stripped down tasteful collection of songs about death and dying, love, bravado, regret, and deep faith. Johnny's voice is at turns authoritative and achingly vulnerable. His interpretation of Gordon Lightfoot's "If You Could Read My Mind" is one of the most fragile and touching tracks I've heard in recorded music. They call Sinatra the great interpreter of song, but after listening to Cash V, I'd argue the same is true of Johnny Cash. I've long given up the business of trying to figure out the inner workings of a legend, so I'll refrain here, but I think Johnny sounds glad to be near departure and glad to be doing what he loved til the very unbitter end (Put me in my box on the 309). If what I've described sound depressing to you, please don't seek out this record 'til you're in a better frame of mind.

VIENNA TENG Dreaming Through The Noise




For some of the reasons listed above, I was worried about listening to and reviewing Vienna Teng's CD Dreaming Through the Noise. Her name has a porn star lilt to it, and she's really skinny and pretty on the front cover – all examples, I admit, of the type of impulsive prejudices buried within me that I warn my son daily to be vigilant against. Pre-listen, I feared Teng might be a baby-woman singer, a phenomenon I revile. In the liner notes, I noticed that one of Joni Mitchell's ex-husbands produced the record.

Initially I'm struck by the slick production and lush orchestral-sounding instrumental arrangements – struck in an uh-oh way, and not in an ahhh way. There's an Enya aesthetic to some of the incidental instruments (which is fine when you're getting a massage but I need to be alert most of the time). Coming from the three-chord school of rock, this is not my cup of tea. But if you're a fan of smart eclectic, at time atmospheric, jazzy female singer songwriters, Vienna Teng is right up your alley. Teng's music is lovely and haunting, the type you'd hear in the background when dining at the neighbors-who-still buys-new-music's house, and you'd say, "Who's this?" and the neighbor would respond, "Vienna Teng." And you'd then ask, "Is she new?" and your neighbor would say, "I'm not sure, I heard her on NPR. Do you like it?" And you'd say, "It's very nice," because you're too old and presumably too sophisticated to still be clinging to both the Runaways and the untouchable Joni Mitchell herself.

There's one song on this record that I love, "I Don't Feel So Well", first because it's a great title for a song (and possibly an entire album, but of course, Teng probably doesn't want to invite THAT sort of listener), and second because it's a roller coaster of dissonance -- the sort of jazz/blues/punk sounding thing that I adore. Lyrically, Teng's poetry is sharply observant (Now all we've got is lunch hour-hour light where nothing photographs well) though at times overly sentimental (You never seen a sight so fine as the love that's gonna shine at city hall). Vocally, Teng's voice has just enough edge and presence to escape baby-womanhood.

As I write this, I find myself plagued with guilt and a troubled stomach. Should someone have written something like this about one of my records, I would've been crestfallen (as I often was back in the so-called day). The point I think I'm failing to make is that I have stubborn prickly ears and that I suspect that tons of people will love this record so I don't want to deter them. Vienna Teng is a talented songwriter and musician and her record is lovely; I'm just the type of person who spaces out when the music is too dreamy and devoid of rough edges.



Editor's note: For more about music reviewer, Laurie Lindeen and her upcoming book, please check out: This Woman Rocks-Petal Pusher.