This Rockermom, Tracey Schofield is one busy mom! Not only an event coordinator for the Dallas chapter of Mamapalooza, and a member of Mocha Moms,Tracey and her husband Paul are also the proud parents of cutie-pie, Roman.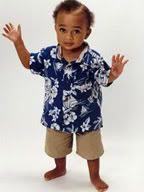 Tracey is a retired teacher of 15 years and wife to rocker hubby Paul " The SAK" bass man for the Shroombakers. Besides balancing this funkadelic family, Tracey paints and designs t-shirts for "the funkadelic family at heart".
Mocha Moms is a National organization which supports mothers of color who have chosen not to work full-time outside of the home in order to devote more time to their families.Tracey is the secretary/ web coordinator for the N. Dallas chapter.
Tracey is the type of loving, easy-going person that makes you feel like you've known her forever.
Check out her interview, you'll probably feel the same way.
What is your definition of a "Rockermom"?
Mothers with a inner rock child
What would those closest to you say if I asked them what makes you a Rockermom?
The love of music and my Family
When you picture yourself both before motherhood and now, what would you say is the biggest difference?
I have learned to share myself, and unconditional love
What accomplishments are you most proud of?
Being a mother and wife, and of course my work as a teacher.
In one sentence, describe your children!
Roman is AWESOME!!!!!
What or who is your biggest motivation?
My son
Here are some fun questions to answer in 3 words (more or less, we won't mark it wrong!):
What are your greatest strengths?
Dependable, trusting, forgiving
Weaknesses?
My temper, CHOCOLATE
Definitions of success?
Love of your Family
Favorite ways to handle stress?
Pray, count, Breathe
Three values you hope to pass on to your children ?
Confidence ,Love, Forgiveness
Favorite indulgences?
My Husband, Music ,Art
Annoyances?
Rudeness, cruelty
Favorite places?
anywhere with Paul (Hubby) and Roman.
If you had the power to change one thing in the world, what would it be?
Schools
Where do you hope to see yourself five years from now?
Running a Musical Foundation for Schools
Do you have some quick advice for other musician moms?
Enjoy the Music and LOVE your Families
A favorite quote that sums it all up for you:
Carpe Diem
Great advice, thanks Tracey!-R