Tis the season, darlings! Not just to give and love and celebrate, but to shine!
All those parties, all that champagne, all those gorgeous outfits! Here, as an early present to you, we're re-capping Glamour's top 20 fashion don'ts.
And we mean, don't!
Some of these we can't agree with more, some we're so-so with, and others make us want to restrain the gag reflex when we see them in person!
But the one thing they all have in common is the ability to make you look like a fashion don't. And since Glamour is currently accepting photos of fashion don'ts online, be careful--you may have your 15 minutes of fame in an ugly way. And we mean ugly!
Glamour's Top 20 Fashion Don'ts

20. Too much bling. Sorry, Paris!

19. Work clothes with sneakers. So 80's!

18. Butt cleavage. NO NO NO!

17. Orange fake tans.

16. Rude message T-shirts.

15. Mom jeans. Especially when you're a Rockermom.

14. Too-short skirts and shorts. Less is not more in this case.

13. Candy-colored hair. Well...we like some color for performances, but that's the exception!

12. See-through clothes. See #14

11. Visible lip liner. Another NO! Even Pam Anderson couldn't pull this one off.

10. Scrunchies, bandanas and other extreme hair accessories.

9. Weird headgear. We love Spongebob, but forget about wearing him as earmuffs.

8. Overly-tweezed brows.

7. Thongs on display. ICK! After the past few years, they've just become butt floss to us.

6. Too-tight clothes. Ouch!

5. Holey denim.

4. Big hair. (What, have the 80's taught us nothing?)

3. The no-bra look. Natural, schmatural. No one wants to look at a pair of empty wallets. Support, woman!

2. Anything mesh. If you're a hairy man, you'll just look like a chia pet, darling.

1. Visible panty lines. This is the year 2006. Purchase panties that don't show. They're everywhere.

And we'd like to add our personal favorite: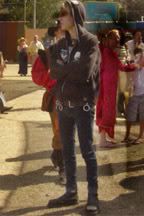 The "Emo" look.
JUST DON'T.
Happy Holidays and we'll see you in 2007! xoxoMUAH!