Laurie Lindeen has it all.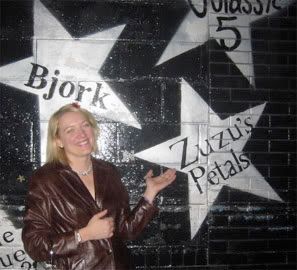 Her past, present and future all brag of a life that many of us moms only dream about while washing dishes. This gorgeous renaissance woman has: performed as frontwoman and guitarist for 90's three-girl band Zuzu's Petals (touring as openers for Adam Ant and releasing two albums); took time off while pregnant to record a solo album 'A Pregnant Pause'; wrote a novel 'My Boyfriend's Dead'; wrote articles for the online magazine The Morning News while pursuing an MFA in Creative Writing.
That's just part of her past.
She is currently working on her latest book, Petal Pusher--her memoirs of life while in Zuzu's Petals. Petal Pusher will hit the bookstores in June '07. We'll be waiting for the pre-sale!
But most importantly, Laurie is mom to eight-year-old Johnny. Laurie, Johnny and husband Paul (Westerberg, yeah, the famous musician/songwriter/etc. we all love) make their home in Minnesota. Laurie graciously agreed to answer of few of our R&R interview questions. After reading her answers, we wished we would've said that!

What is your definition of a "Rockermom"?
A mom who rocks (a mom can rock in many ways like you can rock because you nurse your baby in the middle of the night while on your side so that you catch a few winks while you're at it).
What would those closest to you say if I asked them what makes you a Rockermom?
Before she was a lunch lady, Johnny's mom used to be in a band.
When you picture yourself both before motherhood and now, what would you say is the biggest difference?
I'm a much better, less slender person ( less self-centered and focused on things that don't matter). Mostly.
What accomplishments are you most proud of?
Selling my rock and roll memoir and choosing to make that small window of time in the course of a lifetime when your child is young, to devote myself almost entirely to my baby.
In one sentence, describe your children!
My son Johnny is the coolest boy I've ever known because he's kind, funny, and smart.
What or who is your biggest motivation?
I think that because I became a mother in my mid-thirties that I had a better perspective on what matters (childcare vs. big-ass career), and seeing how comfortable in his skin my son is affirms that I did something right because he's not genetically predisposed to be so.
Here are some fun questions to answer in 3 words (more or less, we won't mark it wrong!):
What are your greatest strengths? Availability, energy, emotional sensitivity.
Weaknesses? I am the queen of empty threats.
Definitions of success? Happiness, artistic satisfaction, and connectedness.
Favorite ways to handle stress? Some times a beer works better than yoga.
Three values you hope to pass on to your children? Three that I struggle with; honesty, self-confidence, and strong happy relationships.
Favorite indulgences? Guacamole and margaritas, an occasional cig, during ladies night out, and an annual gig.
Annoyances? The invisible mom wars, how we judge one another – you're lying if you say you're immune to it.
Favorite places? Target, bed, baseball diamonds.
If you had the power to change one thing in the world, what would it be?
The president of the United States.
Where do you hope to see yourself five years from now?
Right where I am with a happy adolescent and a couple more books in the can.
Do you have some quick advice for other musician moms? Don't stop writing, playing, or singing even if that means to the Teletubbies while jotting lyrics on your grocery list.
A favorite quote that sums it all up for you:
You should get more from your future than you get from your past, and aye oh let's go.

Words to live by! R&R thanks you, Laurie.